15 / April / 2020 : 22-57
Araik Harutyunyan elected President of the Nagorno-Karabakh Republic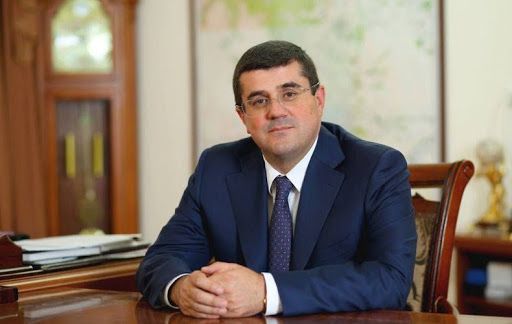 Mr. Arayik Harutyunyan is the President-elect of the Republic of Artsakh. Mr. Harutyunyan received 88% of ballots in the April 14 runoff vote, with 45% turnout. President-elect announced readiness to cooperate with all parliamentary and extra-parliamentary forces towards a consistent and comprehensive strengthening of the Republic of Artsakh.

From 2007 to 2018, Mr. Harutyunyan has served as Republic's Prime Minister, and State Minister (2017-2018). Prior, in 2005, Arayik Harutyunyan and his newly created Azat Hayreniq (Free Motherland) political party entered the Parliament of Artsakh, where he headed the Hayreniq (Motherland) parliamentary faction, and served as Chairman of the Parliament's Standing Commission on Financial and Economic Issues.

President-elect started his career in 1995, by joining the Ministry of Finance and Economy of Artsakh. In 1997, Mr. Harutyunyan entered Artsakh's private banking sector.

Arayik Harutyunyan is a graduate of the Yerevan Institute of National Economy, and Artsakh State University. He holds a PhD in Technical Studies.

During the Artsakh liberation war, at the age of 20, Mr. Harutyunyan joined Artsakh's self-defense forces. He has been decorated with state award For Liberation of Shushi, and with the Martial Cross, 2nd Degree.

In August, 2016, Arayik Harutyunyan was awarded with Grigor Lusavorich order, for outstanding services rendered to the Republic, and in connection with the 25th anniversary of Proclamation of the Republic of Artsakh.

He is the founding Chairman of the Azat Hayreniq (Free Motherland) political party, which participated the 2020 parliamentary race winning 16 seats in the Republic's 33-seat National Assembly.
Mr. Harutyunyan was born in 1973 in Stepanakert, Artsakh. He is married, and has three children.