11 / June / 2021 : 09-34
S&P Revised the Outlook on Ameriabank to Stable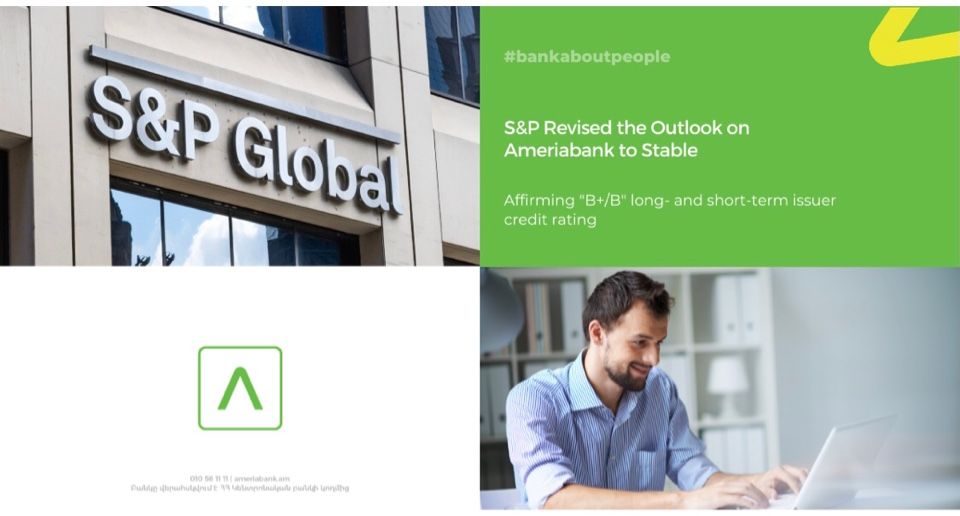 S&P Global Ratings revised the outlook on Ameriabank to stable from negative and affirmed 'B+/B'
long- and short-term issuer credit rating on the bank.
'B+' long-term rating on Ameriabank is one notch lower than its stand-alone credit profile (SACP)
rated "bb-", due to the sovereign's creditworthiness constraint.
The revision of the outlook on Ameriabank follows some stabilization of the macroeconomic and
banking environment in Armenia in 2021. S&P expects Armenia's real GDP to expand by 2.5% in
2021 and 4.5% in 2022-2023. S&P believes that Ameriabank is well positioned to retain its leading market positions in Armenia due to recovering macroeconomic environment and the bank's strong domestic brand, professional management team, advanced digitalization strategy and adequate corporate governance.
The stable outlook reflects S&P's expectation that the bank's sufficient liquidity, prudent risk
management, and strong local brand will enable it to remain resilient to further potential
challenges.
About Ameriabank
Ameriabank is a dynamically developing bank and one of the major and most stable financial institutions in Armenia with clearly formulated digital agenda. Being the first investment bank in Armenia, Ameriabank provides a large package of innovative banking services. Now Ameriabank is a universal bank offering corporate, investment and retail banking services in a comprehensive package of banking solutions. Ameriabank is the largest bank in Armenia according to the most recent reportable data, with assets exceeding AMD 1 trillion.