19 / March / 2020 : 11-00
Coronavirus: What are shops doing about stockpiling?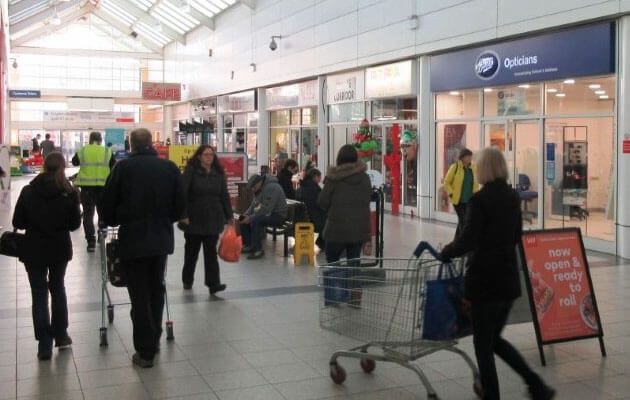 Prime Minister Boris Johnson and the supermarkets have urged shoppers to be sensible when buying food. The comments come after shoppers have been emptying shelves around the UK following the coronavirus outbreak.
So can panic-buying be controlled, and what are supermarkets doing to restock shelves?
How many people are panic-buying?
Social media is full of reports of empty shop shelves, with similar scenes in countries such as Australia, the US, South Africa and Japan.
At the moment, we don't have any official data on the scale of stockpiling in the UK. However, we do know some supermarkets are restricting customers from bulk-buying certain products - due to high demand.
Across different supermarkets, this includes:
anti-bacterial products including hand sanitiser
toilet roll and tissues
long-life milk
pasta
tinned vegetables
rice
soap
cleaning products
pain relief
What else are supermarkets doing?
The major supermarkets have started to impose limits on how many of each item people can buy in-store and online, in a bid to stop panic-buying.
Tesco will limit customers to three of any product, and only two of toilet roll and paracetamol from Thursday
Sainsbury's says people can buy up to three of any grocery product and two of more popular items like toilet paper, soap and long-life milk
Asda will let people purchase up to three of any food, toiletry or cleaning product
Aldi is limiting customers to four of any product
On Wednesday, Tesco chief executive Dave Lewis told customers the store would make other changes from Thursday to manage the current situation.
These include:
Introducing distancing measures at checkouts to reduce the risk of infection
Prioritising the hour between 09:00 and 10:00 every Monday, Wednesday and Friday, for elderly and vulnerable customers
Closing all stores, including 24-hour ones, at 22:00 to allow for the restocking of shelves, and for staff to rest
Closing all meat, fish and deli counters and salad bars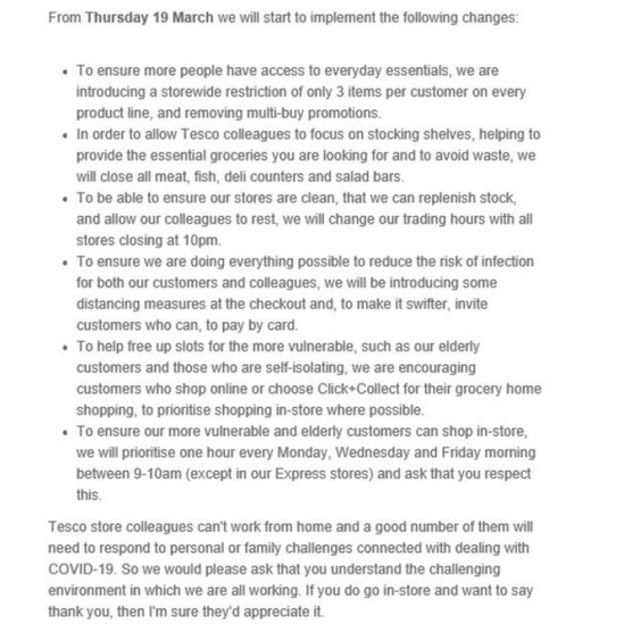 Sainsbury's chief executive Mike Coupe has published a letter online explaining that the supermarket is going to introduce limits on how much people can buy of individual items.
"We have enough food coming into the system, but are limiting sales so that it stays on shelves for longer and can be bought by a larger numbers of customers," he said, adding that Sainsbury's will also prioritise vulnerable and elderly people for online deliveries.
And on Thursday it is setting aside the first hour in all its branches for elderly and vulnerable customers to exclusively shop, as an experiment. Iceland and other shops have also trialled this.
Sainsbury's and Asda are both shutting down services like cafes and pizza counters to switch staff to help keep items on shelves.
Morrisons said it would increase the number of delivery slots by recruiting 2,500 extra pickers and drivers. It has also introducing a range of food parcels for order.
The British Retail Consortium, which represents supermarkets, says they have had "well-rehearsed" contingency plans in place since the Sars outbreak in 2003.
"Supply chains are robust and we are getting food in," a spokesperson said.
Sainsbury's limits sales of all food items amid stockpiling
Iceland stores introduce elderly shopping hour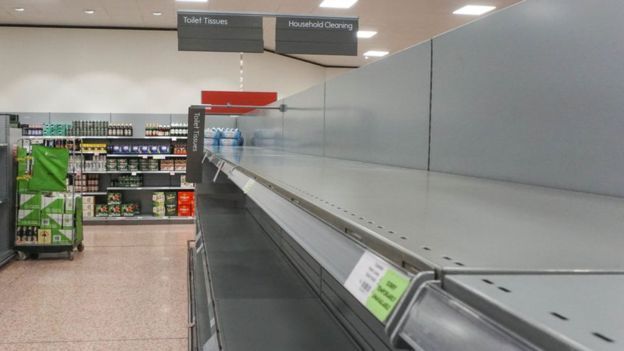 What is the government saying?
The government has said there is no reason for anybody to stockpile.
Speaking on Tuesday, Mr Johnson said: "We are absolutely confident our supply chains are working, and will work, and we will get "farm to fork" food supplies.
"Therefore people should have no reason to stockpile or panic-buy."
Public Health England has said that people should plan ahead and think what they will need, if they have to self-isolate for at least seven days.
The advice is that they should ask friends or family to drop off anything they need, or order supplies online. Any deliveries should be left outside their homes.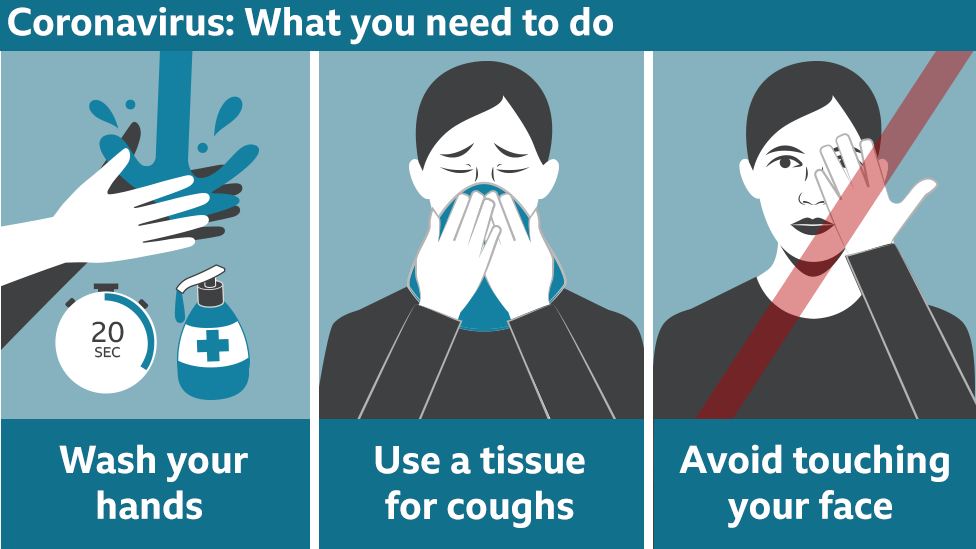 However, the government's powers to deal with this situation are so far untested, according to Paul Dobson, from the University of East Anglia.
But he said he expected the government to speak to supermarkets to secure a series of voluntary agreements on issues around supply, and limiting panic buying.
Supermarket delivery hours were extended earlier in March to help shops remain stocked.
The Competition and Markets Authority watchdog has warned retailers not to "exploit" fears about coronavirus by dramatically increasing the price of protective goods like hand gels and face masks.
The government could also relax competition rules to enable greater co-ordination between supermarkets.
Are online deliveries holding up?
Online deliveries are becoming important for more people at the moment but there are questions over how robust the system is.
Ocado took its website offline on Wednesday until the weekend, having taken its app offline earlier in the week.
It said: "We are very sorry to cause any inconvenience.
"We're managing a simply staggering amount of traffic to our website right now and more demand for products and deliveries than we can meet.
"Our first priority has to be to keep our service up and running and to play our part in feeding the nation."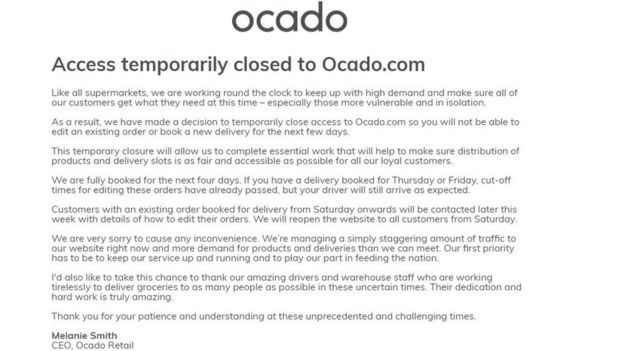 Some Tesco deliveries are not arriving in their scheduled time slot and others are not being delivered at all if the driver runs out of time to reach all the addresses on the list.
Most of the major supermarkets have all their delivery slots booked up for the next couple of weeks.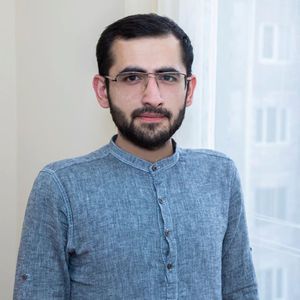 Published on
19 / March / 2020 : 11-00
Published by
Vigen Kirakosyan
---
Lorem Ipsum-ը տպագրության և տպագրական արդյունաբերության համար նախատեսված մոդելային տեքստ է: Սկսած 1500-ականներից` Lorem Ipsum-ը հանդիսացել է տպագրական արդյունաբերության ստանդարտ մոդելային տեքստ, ինչը մի անհայտ տպագրիչի կողմից տարբեր տառատեսակների օրինակների գիրք ստեղծելու ջանքերի արդյունք է: