31 / March / 2020 : 16-25
Coronavirus Outbreak Hitting States in Waves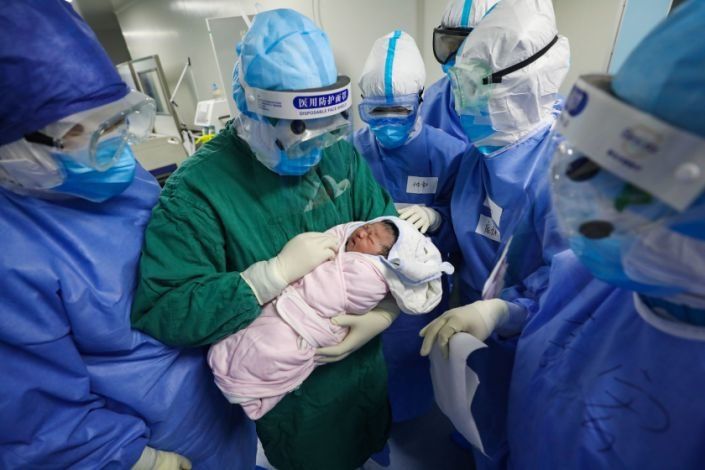 New York has borne the brunt of the country's COVID-19 crisis so far, but other states are on the brink of mounting death tolls.
A member of the Maryland Army National Guard works to set up a triage tent in the parking lot outside of the emergency room at Adventist HealthCare White Oak Medical Center on March 19 in Silver Spring, Md. A staggering death toll already has propelled the U.S. to the top of the list of countries hit hardest by the coronavirus and the disease it causes, COVID-19.
FIVE STATES – NEW YORK, New Jersey, Louisiana, Washington and California – are driving a rapid expansion of the nation's pandemic with no peak in sight, a U.S. News analysis shows.
The analysis of coronavirus deaths nationwide shows those five states have accounted for about two-thirds of coronavirus fatalities in the U.S., and indicates deaths in other states are poised to increase as well. Policymakers can use the information to determine how best to distribute resources to slow the virus' spread and care for those who are sick.
"We have to be thinking ahead, because we know what we're going to see in three to five days is very different than what we're seeing now," says Dr. Aaron Milstone, a Johns Hopkins Hospital physician who specializes in pediatric infectious disease.
A staggering death toll already has propelled the U.S. to the top of the list of countries hit hardest by the coronavirus and the disease it causes, COVID-19. As of March 30, the U.S. had about 159,000 confirmed COVID-19 cases and about 2,950 deaths, according to a Johns Hopkin University tracker. China, where the pandemic began, had about 82,200 cases and 3,300 deaths.
"As the rate of growth increases across states that previously had low numbers, the country's overall death toll will continue to climb," says Rocco Perla, co-founder of nonprofit The Health Initiative and an assistant professor of biostatistics at the University of Massachusetts Medical School.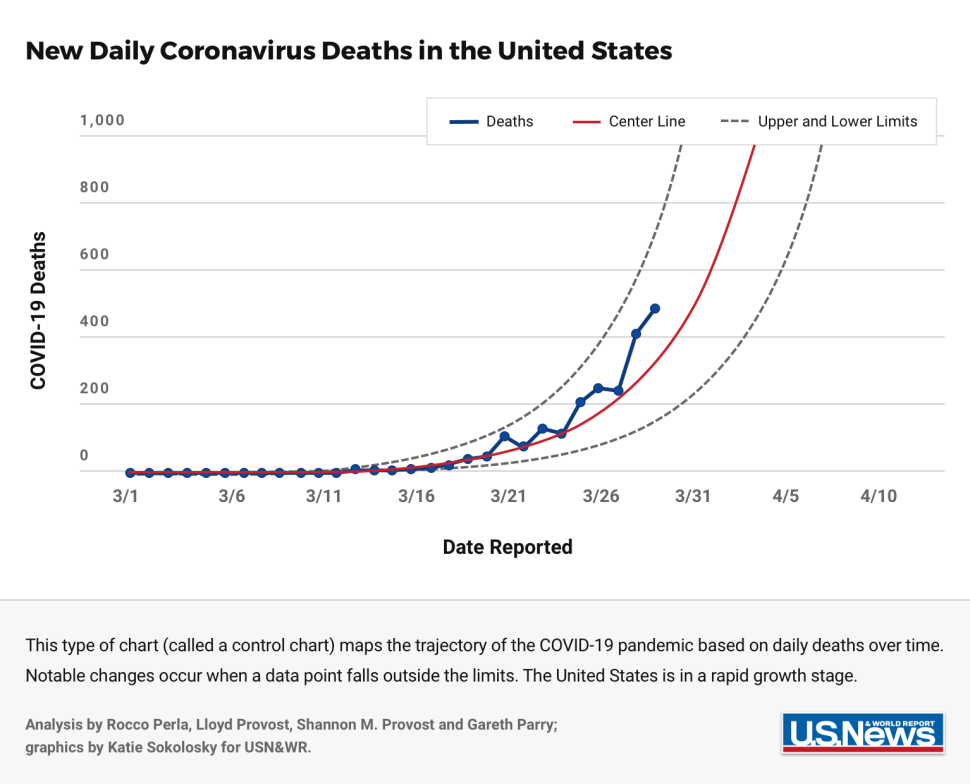 The analysis of daily death counts in states uses data as reported by date through March 28 and compiled by The New York Times, while a nationwide assessment through March 29 is primarily based on information from Our World in Data, a nonprofit that draws on information from the European Centre for Disease Prevention and Control. The analysis is particularly valuable because it adjusts for random variation – the roller coaster highs and lows that make it difficult to recognize meaningful trends. This, in turn, can indicate a statistical turning point, or when one state's death count appears positioned to surge or drop off.
"There is a critically important difference between the number of deaths reported every day in a state and how fast the deaths are occurring," Perla says. "As we head deeper into this storm, people need and want to know if things are getting better or worse overall – Did we reach the peak? – not just that today's number of deaths is higher or lower than yesterday."
By April 1, the nation's death toll will sit at about 750 per day, the analysis shows, with approximately 369 deaths each day in New York alone. Since March 1, when Gov. Andrew Cuomo, a Democrat, announced New York's first COVID-19 case, the virus has ravaged the state, prompting a state-at-home order and a plea for the Trump administration to provide more ventilators for hospitals. On Monday, a 1,000-bed Navy hospital ship, the Comfort, arrived in Manhattan to relieve pressure on overwhelmed hospitals.
Other states may also see a sharp rise in deaths soon, the analysis shows. For example, New Jersey's death toll is growing steadily, and will likely reach 59 new deaths per day by April 1. California and Washington – two of the first states to confirm the virus was spreading locally – are just beginning to see significant increases in their daily death tolls. By April 1, they will likely see about 27 and 22 new deaths per day, respectively, the analysis shows.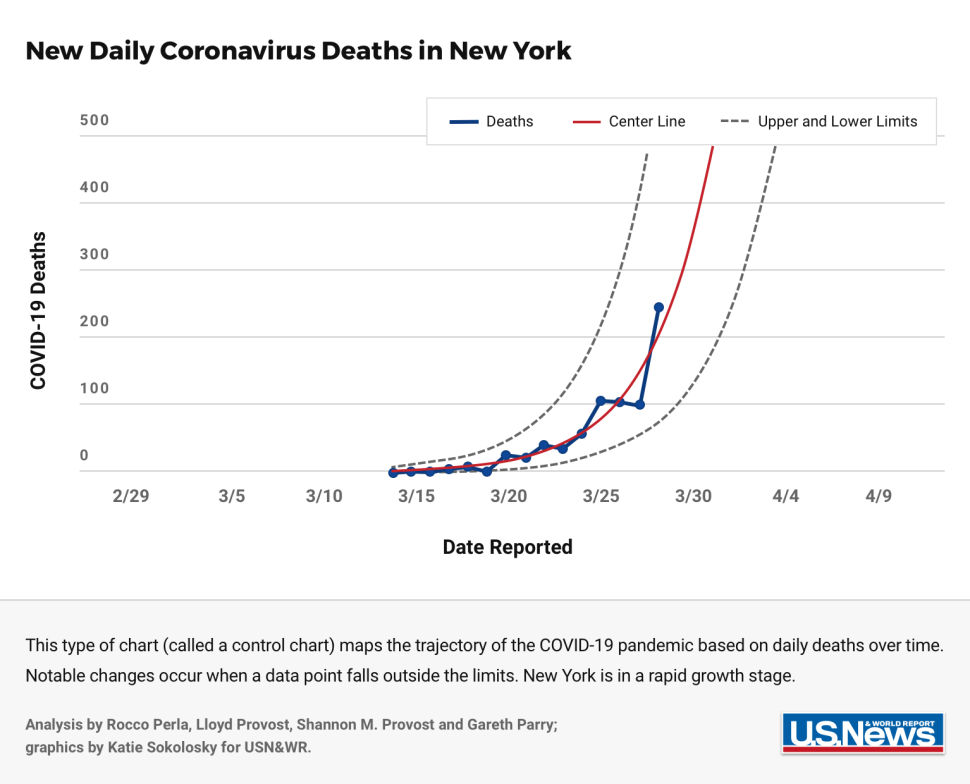 "Every community must use this time to work urgently," says Dr. Tom Frieden, former director of the Centers for Disease Control and Prevention and president and CEO of Resolve to Save Lives, a nonprofit that aims to fight pandemics and cardiovascular disease.
Frieden says communities should be working to expand their capacity to track the virus; to treat a surging caseload of patients without endangering health care workers; and to prepare to do "a massive amount of contact tracing, isolation and quarantine to limit spread of the virus" as tests become available.
The new analysis is a follow-up to a U.S. News assessment of deaths in the U.S. and seven other countries, including China, Iran and Italy, published last week. The first analysis showed that the arc of each country's outbreak is highly variable, depending on when the virus began spreading and whether the country acted aggressively to slow coronavirus transmission and care for those who get sick.
"We've seen this in other countries," Perla says. "As one region's coronavirus deaths peak and then start to decline, in another region it is just starting to climb. This approach is one way to get the earliest signal as to which states are starting to climb."
The sharp upward trajectory of the outbreak in Louisiana is particularly troubling, the analysis shows. Critics of the state's response say the surge in cases and deaths there has been driven in part because authorities didn't recognize the risk of the virus and take preventive action early enough. In February, when there were merely dozens of confirmed cases in the U.S., New Orleans' Mardi Gras festival drew more than a million visitors to the city.
"I doubt you could find an event in the country at that time that was a larger number of people," says Dr. Rebekah Gee, who until recently served as Louisiana's health secretary and now leads the LSU Health Care Services Division. "Two weeks later, as expected, we started seeing our first cases, and they have exponentially grown."
New Orleans residents have been under a stay-at-home mandate since March 20, and Gov. John Bel Edwards, a Democrat, issued a statewide order two days later. But the damage was done. As of Monday, about 37% of Louisiana's 4,025 confirmed cases and close to half of its 185 deaths were in the New Orleans area, and the city is facing a looming shortage of hospital beds and personal protective equipment for health care workers, much like New York.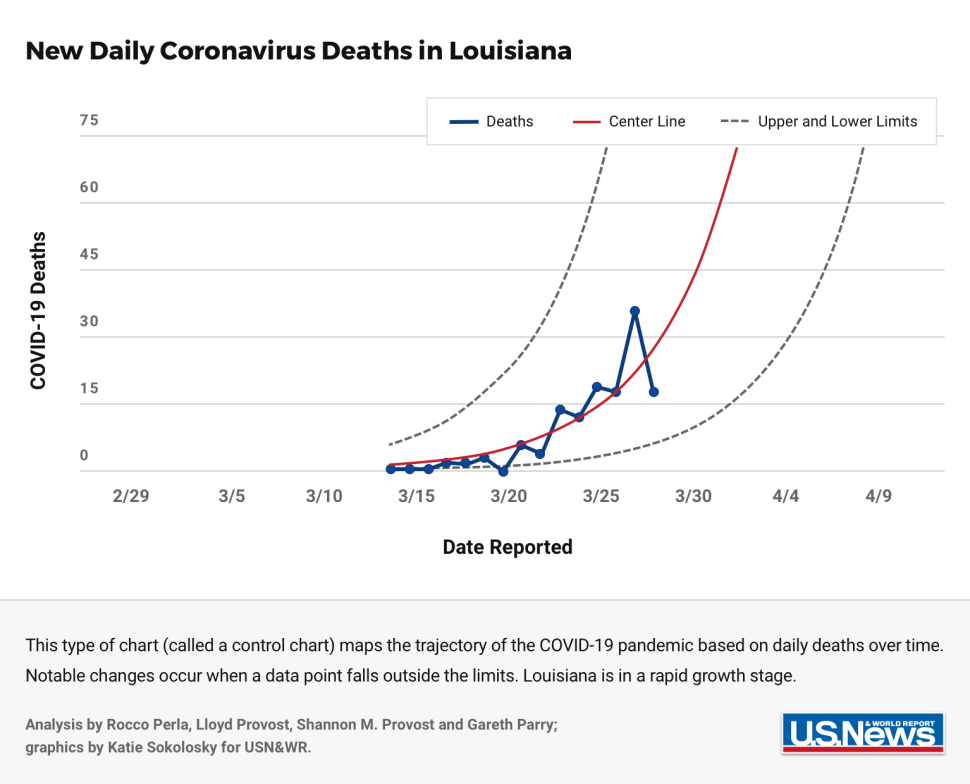 The data also could help inform federal and state decisions to allocate resources to curb the pandemic. Despite a spike in deaths in Connecticut reported on March 25, for example, the state's daily death toll has not yet begun climbing, the analysis shows. But the state borders New York, and the Trump administration approved a major disaster declaration for Connecticut on Sunday, unlocking federal emergency aid.
Ohio, meanwhile, had no confirmed cases of the virus in early March when state officials canceled the bulk of a bodybuilding expo expected to draw tens of thousands of people. Ohio also was among the first states to shutter schools, and residents have been ordered to stay at home until April 6.
The U.S. News analysis comes as about two-thirds of Americans are now under orders to stay at home; Maryland Gov. Larry Hogan, a Republican, and Virginia Gov. Ralph Northam, a Democrat, each announced such an order Monday. President Donald Trump also announced Sunday that federal social distancing guidelines would be extended until April 30, walking back an April 12 timeline he suggested last week.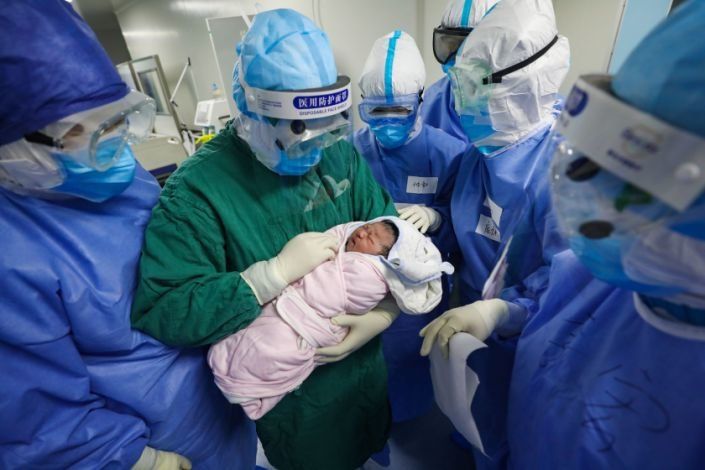 The decision came after the White House coronavirus task force "argued strongly" with Trump to extend the guidelines, Dr. Anthony Fauci, director of the National Institute of Allergy and Infectious Diseases, said Monday on CNN. Fauci and other health experts say easing those restrictions too early could lead to thousands more deaths.
Frieden, the former CDC director, says it will take a huge amount of work to get back to business as usual.
"The right way to approach the question of setting a specific date to reopen the country is for government leadership to reiterate that we will do everything in our power to get back to business as quickly and safely as possible, and (to) highlight that, to do this, there are things every person, community (and health care organization) needs to do now.
"How well and how quickly we do those things," Frieden says, "will determine how soon and safely we can reopen."