11 / April / 2020 : 18-42
Armenia defense minister, Russia ambassador get familiarized with COVID-19 mobile research lab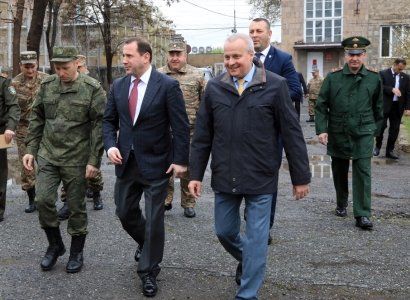 Armenia's Minister of Defense Davit Tonoyan and Russian Ambassador Sergey Kopirkin on Saturday got familiarized with the work of the COVID-19 mobile research lab that has been set up in Yerevan.
This lab was brought from Russia to Armenia as a result of an agreement reached between the defense ministers of the two countries.
Also, specialists from the Russian Armed Forces have arrived in Armenia to assist in the prevention of the spread of the novel coronavirus and organizing of anti-epidemic measures in the country, as well as to pass on to their Armenian colleagues their experience and knowledge in this domain.
This mobile lab can conduct research in any location and weather condition, ensuring 99% accuracy of the study conducted.