08 / April / 2020 : 16-23
The head of the Kurdish community of Armenia Knyaz Hasanov answers back to graveyard scandal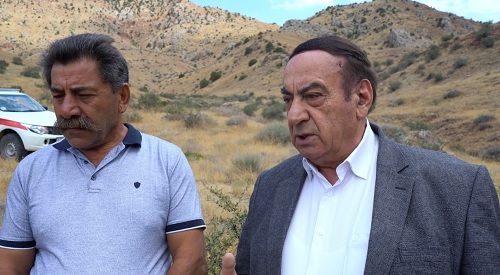 "There is no vandalism here. Here we see typical Azerbaijani cemetery. There are only a few Kurdish gravestones here. There was enmity between the Armenians and Azerbaijanis during the war. Sometimes, the Azerbaijanis there, the Armenians here, committed acts that were condemnable. The friendship between the Armenian and Kurdish people is getting stronger and stronger, so the Armenians have not done anything bad to us, as the village mayor of Urtsadzor confirmed, " during a visit to Urtsadzor community told us Member of National Assembly, the head of the Kurdish community of Armenia Knyaz Hasanov.
Recalling a video has been circulated on the Internet accusing Armenians of vandalizing a Kurdish cemetery in Urtsadzor. The site is owned by the Urtsadzor community and leased to the Foundation for the Preservation of Wildlife and Cultural Assets (FPWC). Yelaket.am also contacted to the organization, they informed that the video completely distorts reality; The cemetery has been in that place since the 1990s. It is maintaining by the foundation's rangers now. During the spring of 2019, one of the gravestones was slightly damaged during the technical work, which was immediately corrected. So the information is incorrect. Several Kurdish families buried corpses of theirfamily members here.
"They've been out of the community for about 30 years now. We see that this cemetery is out of care, that is why the stones are tilted " -Knyaz Hasanov said.
For more information watch Yelaket.am video… Source - Yelaket.am